If you have anything you did for Aaliyah like banners, drawings, poems, meet 'n greets, pictures, then send them to me and I'll post them on the site. Don't forget to give me your Name, Age, and email address and I'll put them on your stuff that you send so no one will be able to copy your work. Email it to me at: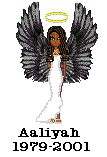 info from www.aaliyah2001.com:
~*~*~*~*~*~*~*~*~*~*~*~*~*~*~*~*~*~*~*~*~*~*~*~*~*~*~*~*~*~
Public Memorial Service:

A public memorial service in honor of Aaliyah will be held on Friday, August 31st in New York City. A continuous loop of Aaliyah's videos, performances and music will run throughout the day. Fans are encouraged and invited to attend, pay tribute to Aaliyah's life and career and mourn this great loss.


Friday, August 31, 2001.
10:00 am to 8:00 pm
Cipriani's 42nd Street
110 East 42nd Street
New York, New York

# # #


Our beloved Aaliyah was killed in a plane crash on Saturday night along with our own Gina Smith, 29, of New Jersey, Aaliyah's product manager at Blackground Records; Blackground Records own Keith Wallace, 49, of Los Angeles; Douglas Kratz, 28, Virgin Records' director of video production; her bodyguard Scott Gallin, 41; Aaliyah's personal hair stylist Eric Forman, 29, of Los Angeles; hair stylist Anthony Dodd, 34, of Los Angeles; and makeup artist Christopher Maldonado, 32, of New York; as well as the plane's pilot, identified only as L. Maradel.


The Cessna 402 was departing from the Marsh Harbour airport bound for Opa-locka, Florida, when it crashed shortly after takeoff at approximately 6:50pm, police say. The plane is said to have crashed approximately 200 feet from the end of the runway killing six people instantly. Three others died later due to their injuries.



Aaliyah had just completed filming of her video for "Rock The Boat", directed by Hype Williams, in which she took time off of her promotional tour to shoot. The cause of the crash isn't known yet, but authorities suspect engine failure because the plane took off in good weather conditions. CNN is reporting that Gloria Knowles, who works for Abaco Air Ltd. at Marsh Harbour airport, said baggage handlers reported the plane was overloaded with suitcases, yet the plane was still allowed to depart at the insistance of the passengers.



It was only two weeks ago that Aaliyah completed filming of her "More Than A Woman" video and she was also scheduled to be a presenter at the 2001 MTV awards on Thursday, September 6th in New York City. Aaliyah had already completed the initial shooting for the Matrix II in Los Angeles last month and was scheduled to fly to Australia after the New Year to finish up principal photography for The Matrix II & III.

Our prayers go out to the families of all that were lost. They will be dearly missed.



The Haughton Family Statement:
Aaliyah's family is devastated at the loss of their loving daughter & sister. Their hearts go out to those families who also lost their loved ones in this tragic accident.

The Blackground Records Statement: Blackground is devastated with the loss of our Queen. The example she showed young people will be sorely missed and we hope her short time on earth will be an inspiration to young people all over the world.

We are equally distraught by the passing of our Blackground family members Gina Smith and Keith Wallace. Their hard work and dedication were an invaluable contribution to the success of Aaliyah and Blackground. Our prayers go out to all the families.

The Virgin Records Statement:
The worldwide Virgin family is devastated by the news of this terrible and tragic accident and our hearts and thoughts go out to all those families who lost loved ones.

Aaliyah, one of the world's brightest and most talented stars, will be mourned by all who loved her and loved her music. Her depth and versatility as an artist was matched by the passion and devotion she had for her craft.

We extend our deepest sympathies to the family of Virgin staff member Doug Kratz. Doug was an extremely dedicated and talented professional, whose enthusiasm, energy and spirit will be missed by everyone who worked alongside him everyday.


# # #

The Blackground Family would like to thank everyone for their support during this extremely difficult time. Aaliyah's fans and admirers meant the world to her and it's no less apparent that she meant the world to them. We truly thank you for your outpouring of love and affection for all of those who were so dear to our hearts.


# # #



Please send flowers and floral arrangements to:

The Trump International Hotel
1 Central Park West
New York, NY 10023
Attn.: Diane Haughton



Please send letters and cards to:

Aaliyah Memorial
101 West 23rd Street
Suite 2342
New York, NY 10011




Aaliyah Memorial Fund

In accordance with the Haughton Family wishes, the fund listed below has been set up in Aaliyah's name.


Aaliyah Memorial Fund C/O Entertainment Industry Foundation
11132 Ventura Blvd.
Suite 401
Studio city, CA 91604
Attention: Merrily Newton
p. 818.760.7722
f. 818.760.7898
e. mnewton@eifoundation.org




As Aaliyah was committed to breast cancer charities, the fund will be divided as follows:

50% to the Revlon/UCLA Women's Cancer Research Program

50% Memorial Sloan Kettering Cancer Center in Harlem, The National Breast Cancer Center in Washington DC and the Revlon/UCLA Breast Cancer Center.

All of the beneficiaries are part of the upcoming charitable event, "Breathe", at which Aaliyah was slated to appear on October 27th.

Donation checks can be sent directly. Donars wishing to use credit cards should please contact Merrily via phone, fax or email.

All Donations are 100% tax deductable.
The Tax ID number is 95-1644609.
Cards will be sent to the family notifying them of donations made.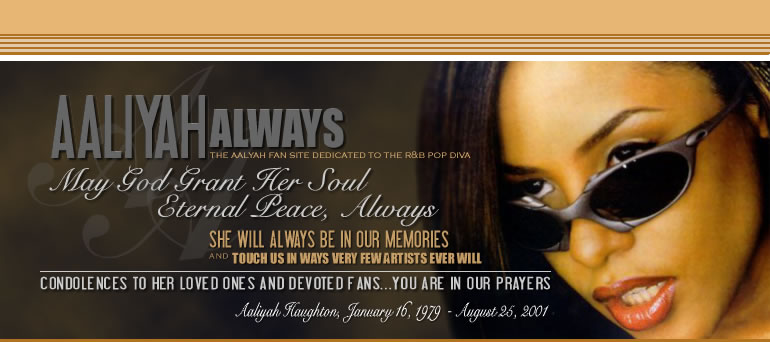 2001-2002 MLB Productions